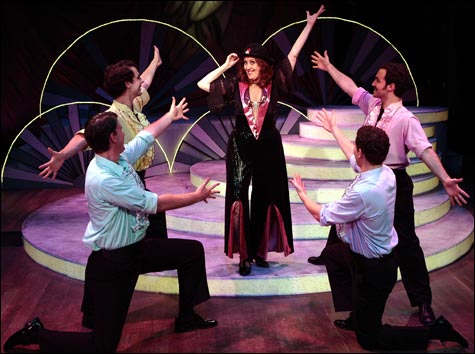 A pretty girl is less like a melody than like yesterday's news in Follies, the New York Drama Critics Circle Award–winning 1971 musical that lost money but became the stuff of legend.
An amalgam of showmanship, nostalgia, and nostalgia for a certain kind of showmanship, the show is set in a faded New York theater about to be razed for a parking lot.
The original production was inspired, in part, by a photo of Gloria Swanson standing in the rubble of what had been the Roxy Theatre.
And the musical about former showgirls reuning at the scene of their one-time "follies" — both Ziegfeldian and romantic — features a fair share of emotional wreckage as well, the rubble of the heart raked by composer/lyricist Stephen Sondheim into a dizzying, dissonant swirl of moxy, heartache, and homage.


There is no actual debris on stage at Lyric Stage Company of Boston, which fields a heroic revival (through October 11).


But the sense of lives lived amid the grit of regret is very much present.