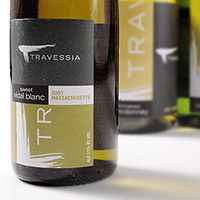 Think globally, act locally: Now it's even easier to do that when it comes to booze, thanks to the
Travessia Urban Winery.
They're located in downtown New Bedford, drawing on the Portuguese heritage of the founding vintners to craft seven varietals. They offer four white wines -- Unoaked Chardonnay, Chardonnay, Vidal Blanc and Sweet Vidal Blanc -- and three reds: Pinot Noir, Merlot, and Cabernet Franc.
They even offer a free Wine Club, membership in which gives a 10% discount on Travessia product, and free, monthly "geekdom" courses in Wine 101.
What's not to like?